Sentar is a cyber intelligence company, applying advanced analytics and systems engineering expertise to protect our national security and way of life by innovating, building, and securing mission-critical assets.
During the past 10 years, our growth strategy has leveraged our advanced technology capabilities and focused on specific markets where we have a differentiating advantage. Our distinguished clients include multiple agencies across the Department of Defense and the Intelligence Community, as well as several commercial clients. 
As we look to the future, we are focused on the convergence across the cyber domain of technical disciplines once thought separate. Cybersecurity expertise is essential but insufficient in tackling the ever-evolving cyber threat. Tomorrow's cyber domain solutions require expertise in cybersecurity, intelligence, analytics, and systems engineering. More importantly, we must focus on solutions that combine these disciplines. 
Sentar is uniquely positioned today to deliver those solutions, bringing strong capability and capacity in each discipline, along with converged thinking to unlock their power in the converged cyber domain.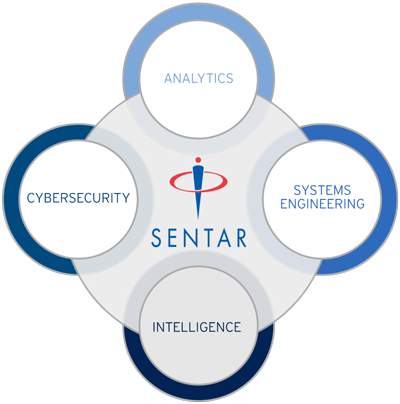 We deliver solutions that:
Protect data and critical infrastructure from insider and external threat vectors
Enable risk-based decision making to enhance missions and realize better business outcomes
Safely and securely harness the power of an increasingly-connected world
In a connected world, cyberattacks present a threat to every aspect of our society.

Our passion is protecting our nation's security and our way of life by innovating, building, and securing mission critical assets.
Ethical in Everything We Do.
Our Core Values start with an unwavering commitment to integrity in everything we do. Lots of companies pay lip service to integrity but for us, it's different. For us, it's who we are.
Employees are Our Most Important Assets.
We are committed to investing in our people. That investment certainly includes ensuring competitive benefits and opportunities for development and advancement. But the differentiated element here is investing time and attention with each employee to understand and embrace their professional and personal goals.
Seek Win-Win-Win Solutions.
Lastly, we work hard to find solutions where our employees win, our clients win, and the company wins.
Established in 1990, we have a long history of innovation. In fact, our initial focus was on applied technology solutions to help our National Security clients solve challenges in command and control, software development, knowledge management, and cybersecurity. It wasn't until 2009 that we expanded our focus to grow the business, leveraging our reputation for innovation as a differentiator among intense competition.
Today, we are one of the fastest-growing cyber-intelligence companies serving the National Security sector, having grown the company more than 1500% and built a team of more than 250 cybersecurity, analytics, intelligence, and systems engineering experts. Most importantly, our growth was achieved all organically, without acquisitions. Check out our highlights on the timeline below.
ITES-3S Awarded to Expand Army Portfolio
In 2018, Sentar was awarded ITES-3S, further extending our partnership with the U.S. Army.
DHA Awards Sentar $160 mil.
In 2016, Sentar was awarded a $160M contract with the Defense Health Agency under Task Orders 6 & 7.
Employee Count: 184
Awarded Multiple Prime Task Orders by NIWC, Bringing Cyber Solutions to DHA, ET AL.
Shortly after opening an office in South Carolina, Sentar was awarded four task orders as prime contractors for the Naval Information Warfare Center (previously known as SPAWAR).
Employee Count: 108
Initiated Strategic Push in Charleston, SC Defense Market
In 2012, Sentar opened an office in Charleston, inviting a wave of Navy-driven contract opportunities.
Employee Count: 68
Established Intelligence Footprint in Columbia, MD
In 2009, Sentar's Intel office opened in Maryland.
Employee Count: 39
Join the fastest-growing team in cyber